Bay Area Residents from Japan Join the Massive Anti-War Rally, Raise Japanese Voice for Peace
Oakland, CA --October 02, 2001 Amidst increasing likelihood of military retaliation against those responsible for the recent terrorist attacks, a massive anti-war rally and march was staged on September 29, 2001, at Dolores Park in San Francisco. More than 40 Japanese residents in the Bay Area joined the rally, waving Japanese language placards and indelible images of Hiroshima, urging US, Japan and other world leaders to cooperate for a peaceful means to eradicate terrorism.
The Japanese participants are part of the newly established US-Japan-NoWarNetwork, which seeks to mobilize people from Japan in the Bay Area to raise the unequivocal Japanese demand for peace internationally. Currently, Japan stands side by side with the Bush Administration, as it gears up for warfare with Afghanistan.
The massive anti-war rally was organized and sponsored by Act Now to Stop War and End Racism (A.N.S.W.E.R.), a national coalition of civil organizations and individuals seeking justice through peaceful means. The coalition also staged simultaneous rallies in Los Angeles and Washington, DC where it is headquartered.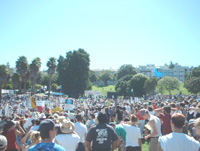 In the nation's capital, more than ten thousand protesters marched between rows of police officers bordering the sidewalks, and police helicopters circling the sky in close watch.
The San Francisco Bay Area, which includes Berkeley and Oakland in the Eastern part of the Bay, is well-known for its high-profile anti-war movement during the Vietnam War. Since the recent terrorist attacks, the Bay Area has already seen a plethora of community responses to the imminent war, ranging from a music concert in San Francisco, a rally at UC Berkeley attended by 2,000 students, to a weekly protest demonstration at Lake Merritt in Oakland.
In the Japanese community, an ad hoc house meeting offered space for fellow Japanese to come together and discuss the recent tragic crisis and its implications in their native tongue. Thus developed the US-Japan-NoWar Network, which so far has released an anti-war statement upon Prime Minister Koizumi's arrival in Washington on September 25, and mobilized to express Japanese solidarity for peace in the San Francisco rally this past Saturday.
Hiroshi Kashiwagi, a co-founder of the US-Japan-NoWar Network, insists "there are many people opposed to military retaliation, or at least seriously concerned about it, while condemning terrorism and taking part in our collective prayers for the victims and their families."
"Linking such people in Japan and the US who share a common desire for peace, the Network aims at elevating the peaceful solution as a viable alternative," said Mr. Kashiwagi.
The US-Japan-NoWar Network has set up the online Anti-War Resource Center at www.jprn.org to promote information exchange in Japan and the US. US-Japan-NoWar@freeml.com is a public listserve set up to facilitate active discussion in both Japanese and English fonts. Those interested in volunteering or getting involved are encouraged to contact the JPRN office at 510-891-9045.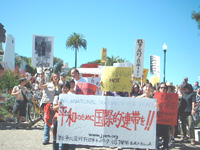 ---